Amazon has renewed an annual deal with AP Moller-Maersk to haul the equivalent of 20,000 40-foot container using green fuels.
The agreement, which pairs one of the world's largest shippers with one of the biggest container carriers, is estimated to contribute to an emissions reduction amounting to the equivalent of 44,600 tonnes of CO2 compared with conventional bunker fuel, Maersk said.
Amazon, the Seattle-headquartered e-commerce giant, is using Maersk's ECO Delivery service to procure green shipping in its 2023/2024 freight agreement, marking the fourth year that it has lined up lower-emissions shipping with the Danish giant.
While the agreement is currently focused on green biofuels, Maersk said Amazon will also benefit from its plans to include green methanol voyages in its ECO Delivery service.
Copenhagen-listed Maersk has started operating its first methanol-fuelled container ship on a round-the-world tour before an official naming ceremony as it builds a fleet of more vessels that can run on the fuel.
The ECO Delivery programme is green fuel agnostic, so as those vessels hit the water, green methanol will be part of the mix, as will other fuels like green ammonia if Maersk ends up adopting them.
"We're proud to collaborate with Maersk, a Climate Pledge signatory and leader in shipping logistics, on actionable solutions to decarbonise maritime shipping," said Adam Baker, Amazon's vice president of global transportation.
"We're excited to have containers on Maersk's first methanol-enabled feeder vessel and to continue using their biofuel."
Asked by TradeWinds why the tech giant has not committed to moving more of its containers with green fuels, Baker told TradeWinds that it is important for major companies like Amazon to stimulate investment in the development of green fuels.
"We're making great progress in transportation, but we need to move faster and need partners like Maersk and industries to help us," he said. "Technologies, fuels, and supporting infrastructure are required to move large volumes of goods over long distances by sea and air, and many of these don't exist at scale yet."
Amazon is one of the biggest of more than 200 customers in the ECO Delivery programme, and its 20,000 container commitment is comparable with previous years, when shipping volumes were higher. In 2022, some 2% of Maersk's ocean freight was transported with green fuels, according to the company's sustainability report.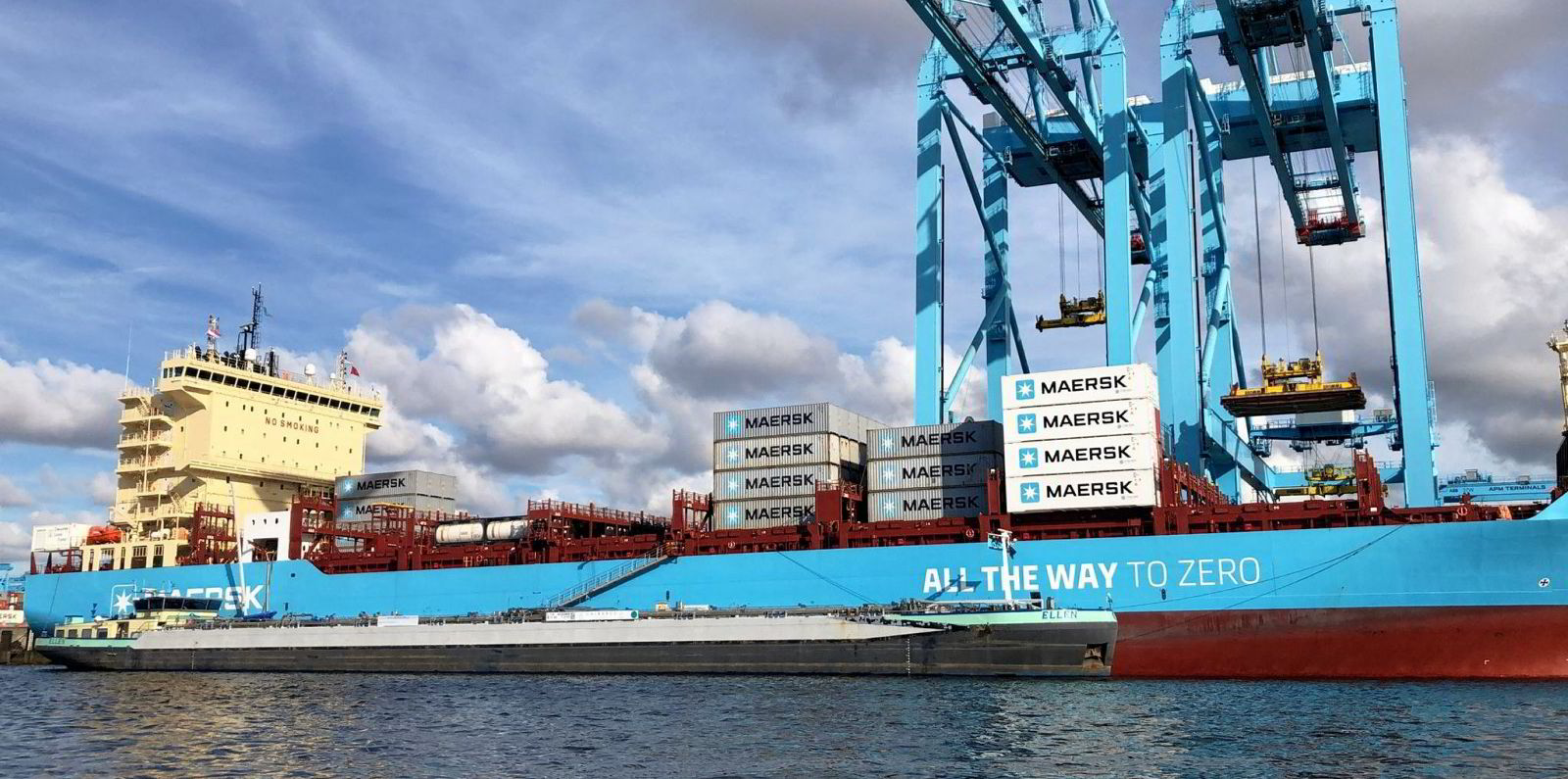 Both companies are among the 400 signatories of the Climate Pledge to achieve net zero by 2040, and Amazon is a member of the Zero Emission Maritime Buyers Alliance and Cargo Owners for Zero Emission Vessels.
Narin Phol, Maersk's president for North America, highlighted Amazon's record of securing sustainable shipping, no matter the business climate.
"We share a common goal with Amazon to reduce our total greenhouse gas emissions to net zero by 2040," he said.
"As co-signers of the Climate Pledge, we must constantly create new opportunities to make this a decade of action. Decarbonising shipping is one significant step that is to be combined with many others to protect our future."
Subscribe to Green Seas
TradeWinds' weekly newsletter on sustainability and the business of the ocean digs into environmental issues every week in the maritime industries. Get it in your inbox by subscribing.
Ship It Zero, a coalition of green groups campaigning for big retail brands to take a more aggressive stance on green fuels in ocean shipping, gave Amazon a "D" grade in its recent scorecard.
But Eric Leveridge, the Ship It Zero lead for member Pacific Environment, applauded Amazon's decision to use Maersk's Eco Delivery programme.
"It is a significant step in the immediate term to reduce greenhouse gas emissions from their maritime shipping operations, and we urge all retailers to utilise existing lower-emissions options offered by shipping carriers," he said.
Leveridge said such steps are vital because global emissions must peak by 2025 to stay on a trajectory to halt global temperature rises at 1.5C.
"However, it is important to remember that green biofuels are not a scalable solution for sector-wide shipping decarbonisation efforts," he said.
"These short-term steps must be coupled with investment in alternative fuels that are long-term solutions like green hydrogen